Bible Study
A bible study meets every Sunday evening from 5:30 -6:30 in the educational building next to the church. The bible study is very informal as we sit around a table studying and talking about the word of God. Every 6 weeks the theme changes and we study scripture passages related to the topic.
If you are interested in joining us, please contact John at this email address: johnrehling36@gmail.com, for the scripture and questions to go with the topic.
All ages are welcome to join us on any Sunday night even if we are in the middle of a topic.  We look forward to having you come.
Fidelis Circle
FIDELIS is the Ladies Bible Study group – (Faith Is Devoting Each Day In Service). We strive to glorify God as women united in devoting ourselves to Jesus Christ.
FIDELIS meets the first Tuesday of each month at 10:00 A.M. from March through November for Bible Study, fellowship, and refreshments.
FIDELIS is open to women of all ages.
Sleeping Mat Ministry for the Homeless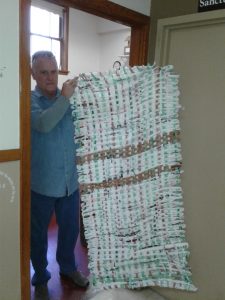 We crochet or weave plastic shopping bags to make sleeping mats for the homeless. We meet on Thursday mornings from 9:00 – noon in the fellowship hall. All are welcome to join us.